2. Snapper Tacos with Tomato and Avocado Salad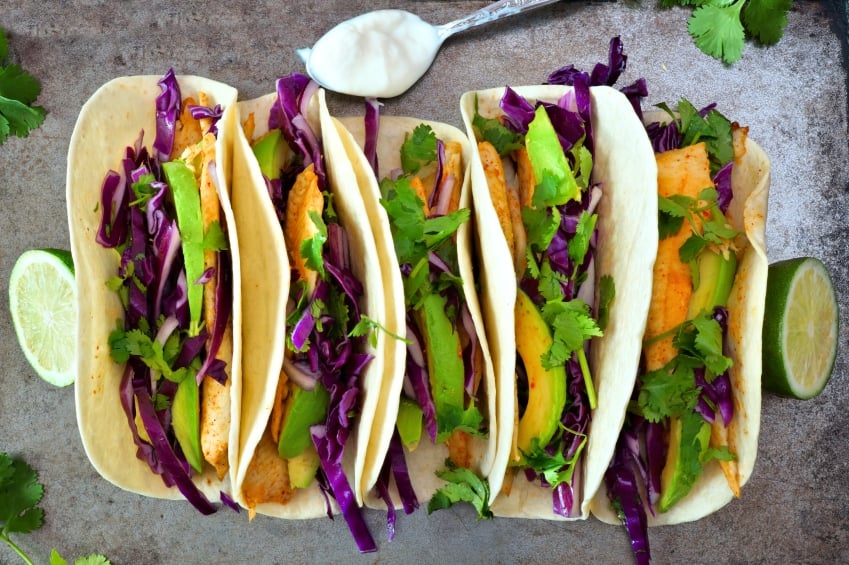 If using more than 10 ingredients isn't really what you had in mind, there's plenty of simple seafood recipes that are full of flavor. Snapper, and red snapper in particular, is also high in omega-3 fatty acids but is more renowned for its high levels of selenium, which can help prevent rheumatoid arthritis, heart disease, and perhaps even cancer. The fish is also high in potassium and Vitamin A, SFGate reports.
Men's Fitness provides this simple and healthy version of fish tacos, relying on the grill to give the fish an extra boost of flavor. The recipe makes two servings that are 422 calories each and contain just 1 gram of fat but a whopping 49 grams of protein.
Ingredients:
1 pound snapper fillets
Kosher salt and cracked black pepper
4 corn tortillas
Nonstick cooking spray
Salad
1 cup grape tomatoes, halved lengthwise
1 avocado, peeled and diced
2 tablespoons chives, cut into 1-inch pieces
Juice of ½ lime
Directions:
Heat grill to high. Cut two slits on skin side of each snapper fillet. Season fish with salt and pepper, and coat both sides with nonstick cooking spray. Lay fish skin-side down on grill and cook 5 to 8 minutes or until you see dark grill marks. Flip and cook another 5 to 8 minutes or until fish is white and flaky; if it sticks to the grill, wait a minute before flipping. Remove from heat. Place tortillas on grill and heat until soft. Divide fish evenly between tortillas. Combine all salad ingredients and add to tacos.