3. Cajun Crab Croquettes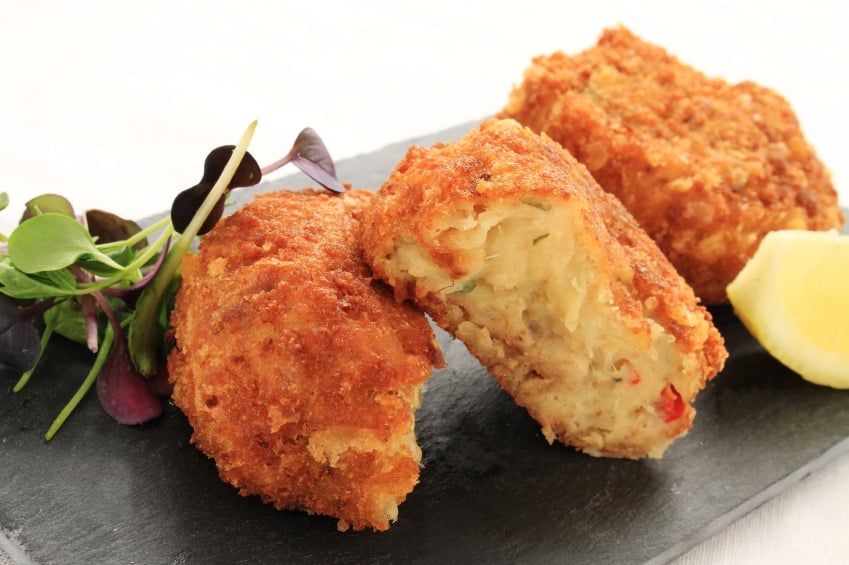 Crab is delicious and versatile, but this Louisiana style is a unique way to prepare the seafood for something different — with a bit of a kick. Eating Well, which provided the recipe, suggests serving with baby spinach and a vinaigrette, along with corn or asparagus and fruit for dessert. Even with all of that, you'll still be under 500 calories but not miss the extra at all.
The recipe also got 4 out of 5 stars on the website, meaning it's worth a try if you're looking for a new recipe. One serving is two croquettes and contains 7 grams of fat, 260 calories, and 27 grams of protein.
Ingredients:
3 teaspoons canola oil, divided
1 small onion, finely diced
½ cup finely diced green bell pepper
½ cup frozen corn kernels, thawed
1½ teaspoons Cajun seasoning, divided
1 pound pasteurized crabmeat, drained if necessary
1 large egg white
¾ cup plain dry breadcrumbs, divided
¼ cup reduced-fat mayonnaise
½ teaspoon freshly grated lemon zest
Directions:
Preheat oven to 425 degrees Fahrenheit. Coat a baking sheet with cooking spray. Heat 1 teaspoon oil in a large nonstick skillet over medium heat. Add onion, bell pepper, corn, and 1 teaspoon Cajun seasoning and cook, stirring, until the vegetables are softened, about 4 minutes. Transfer to a large bowl. Let cool for 5 minutes. Add crab, egg white, ½ cup breadcrumbs, mayonnaise, and lemon zest. Mix well. Divide the mixture into 8 equal portions (about½ cup each).
Form each portion into an oblong patty that's about 4 inches by 2 inches. Place on the prepared baking sheet. Combine the remaining ¼ cup breadcrumbs, ½ teaspoon Cajun seasoning, and 2 teaspoons oil in a small bowl. Sprinkle 1 heaping teaspoon of the breadcrumb mixture over the top of each croquette, then gently press it on. Bake the croquettes until heated through and golden brown on top, about 20 minutes.