5. Shrimp and Snow Pea Stir-Fry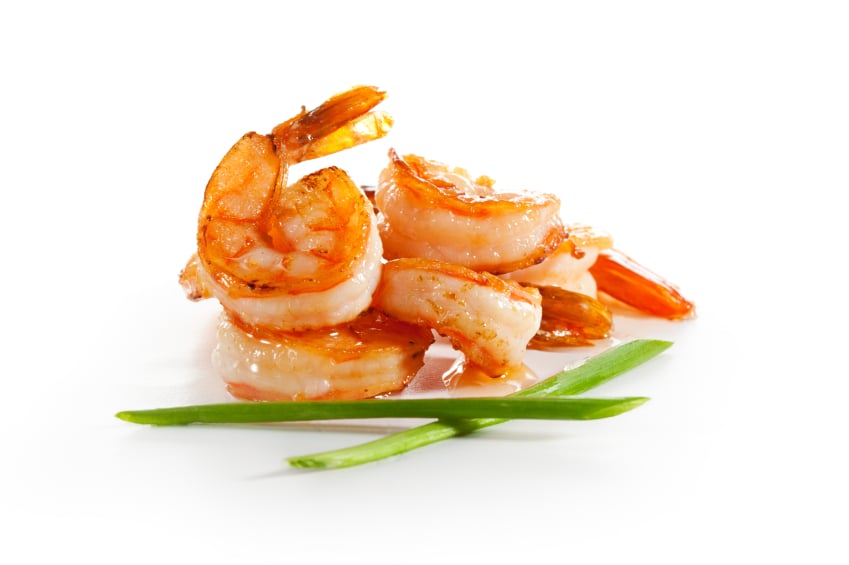 It'd be a sin to exclude shrimp from a list of any seafood dishes, let alone healthy ones. Shrimp is known for being high in cholesterol, and it does have a decent amount. But if you're eating it in moderation, it's a fantastic source of protein and very low in fat. The low fat content means it's also lower in omega-3 fatty acids, but if you're looking to switch up your seafood plates, shrimp is a good option. Most of America thinks so too: A health newsletter distributed by Tufts University reports that shrimp passed canned tuna in terms of most-consumed seafood in 2001.
Shrimp is best made in stir-fry and salads when the fat content won't jump because of creamy sauces, Tufts reports, which means this recipe from Health is a great choice. For those of you watching your blood levels, one serving (about 1½ cups) will have about 242 milligrams of cholesterol. It's only 173 calories, with less than 4 grams of fat and about 27 grams of protein. What's more, it's also easy to make and takes about 10 minutes from preparation to your dinner table.
Ingredients:
1 teaspoon olive oil
¾ pound peeled and deveined large shrimp
1 small garlic clove, minced
1 cup trimmed snow peas
¼ cup chopped fresh flat-leaf parsley
2 green onions, thinly sliced
2 teaspoons fresh lemon juice (½ small lemon)
⅛ teaspoon salt
⅛ teaspoon coarsely ground black pepper
Directions:
Heat oil in a large nonstick skillet over medium-high heat. Add shrimp and garlic, and sauté 5 minutes or until done. Add snow peas and remaining ingredients; sauté 30 seconds.