5. Sweet Potato and Cauliflower Hash
Well-spiced vegetable hash is made even better with at least one sunny-side-up egg on top of it.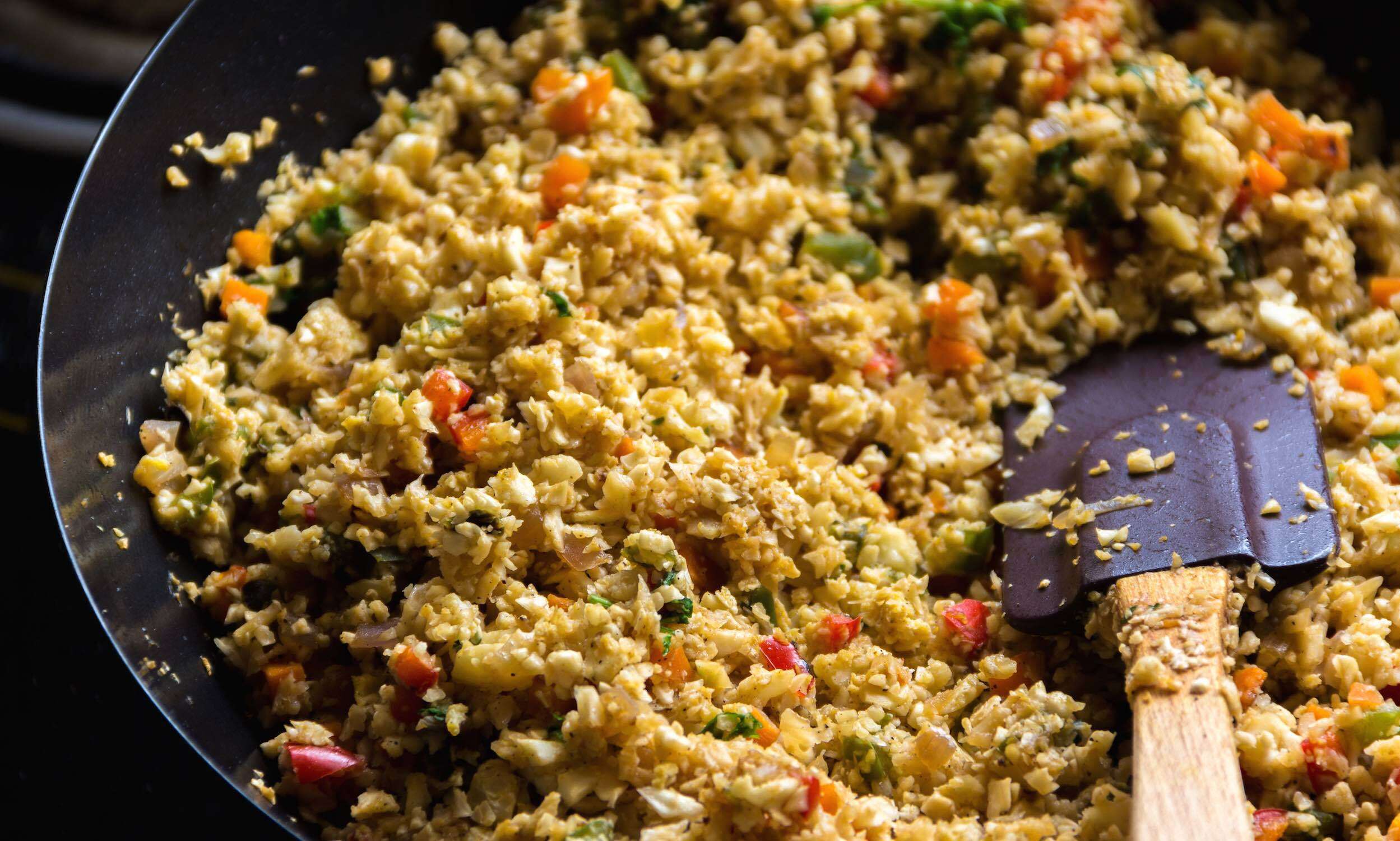 You've probably already made hash at some point or another, even if accidentally. I know I have. In an effort to avoid dirtying more than one pan, I've tossed a bunch of vegetables and maybe some cooked bacon into a pan and served it all in one big pile. Once I got on the hash train, I knew I'd stumbled upon something magic. Hash has a wondrous ability to commingle random ingredients into a complex medley of breakfast flavors. Corned beef hash with chunks of white potatoes is probably the most famous of the hash family, but I prefer to go heavy on the vegetables when making hash at home. A base of shredded sweet potatoes and cauliflower (dare I say cauliflower rice) replaces the beef and white potatoes, but this hash doesn't completely omit those classic flavors; rather they swim in spices that mimic those found in a corned beef brine.
Cauliflower hash starts with the spice blend. In a small bowl, mix together ¼ teaspoon allspice, 1 teaspoon yellow mustard seeds, ½ teaspoon red pepper flakes, ¼ teaspoon ginger, 1 teaspoon kosher salt, and ½ teaspoon freshly ground black pepper. Set the mixture aside.
Heat 2 tablespoons butter in a large skillet over medium heat. When the butter begins to sputter, toss in 1 small diced yellow onion. Let the onion cook for 30 seconds or so, then add 1 thinly sliced garlic clove. Continue to cook, for another few minutes, unafraid of browning the onions and garlic, but very afraid of burning them. Throw in the spice mixture and stir the mixture until it smells so lovely you tear up a bit. At this point, if I have any cooked breakfast meat I'll throw it in. Crumbled bacon, ham, sausage, or fake meat will all get the job done, but it's not required.
Shred 1 sweet potato and ½ head of cauliflower with a box grater or with the shredding blade of a food processor and dice 1 green bell pepper. Dump the vegetables into the pan and cover with a lid. Let the mixture steam for about 5 minutes, stirring once.
Remove the lid and turn the heat up to medium high. Press down on the hash with a rubber spatula, and let the mixture cook undisturbed for another 3-5 minutes.
Cauliflower sweet potato hash is best served in large piles with at least 1 sunny-side up egg. Toss some freshly chopped parsley over the whole deal and make sure the broken runny yolk falls into every crevice.